16 December 2023
hours 5:00 PM
Yoga Hatha Yoga class
Lesson with Vincenzo Improta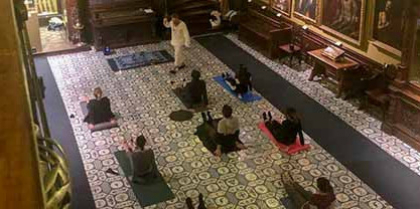 What to expect
Hatha Yoga practice with Vincenzo Improta.
The cost of the guided tour and of the HATHA YOGA practice is €20. Seats are limited (max 20) and tickets are non-refundable.
For the practice it is necessary to wear comfortable clothing, bring a mat and a blanket.

HATHA YOGA
Hatha Yoga, compared to other types of Yoga, is the one closest to the Indian tradition.
Ha is the Sun (masculine energy), Tha the moon (feminine energy): this practice, already in the name, declares its contribution to the balance between the polarities that inhabit us.
Hatha Yoga is characterized by its simple positions performed at a very gradual pace and with very soft movements, constantly in association with the breath: it can therefore be practiced at any age and even by untrained people.

VINCENZO IMPROTA
He trained at the Siddharta School in Naples where he still collaborates, and has deepened, in over twenty years of activity, the Spiritual Energetic Movement and numerous other disciplines that contribute to the holistic approach to the person and his psycho-physical balance. He is, in fact, operator and instructor of Shiatsu, operator of Foot Reflexology and Ayurvedic massage, and is also a relational Counselor with body address and bioenergetic orientation, as well as an instructor for future Hatha Yoga teachers.
Vincenzo's "is not a job, but a daily and endless journey. We are all on the way! The pleasure of relating to others to humbly contribute to their well-being, together with a positive spirit and great determination, are my passion, my lifestyle".
Features
Duration: 1 ora
Tickets available for purchase: from 1 to 30 (based on availability)
We suggest: Wear comfortable clothes and bring a mat, a plaid, a sweatshirt and a pair of socks
To info: +39 3715217747, line dedicated to the event
In case of defection: Is possible to make up for the next lesson
This ticket is not refundable
You better book on-line!
you always have these benefits included
Instant ticket

Relax

Skip the line

The environment thanks you

Easy and stress free

Secure Payments

Personal area and help desk
How to reach the property
Museo Civico Gaetano Filangieri
Via Duomo, 288 - 80138 Napoli
Central Station
Walk 1.2 km, 16 minutes
A piedi 1,1 km, 14 minuti
Walk 1.1 km, 14 minutes
Metro Line 2 - Piazza Cavour stop
Walk 800 meters, 10 minutes
The opening hours of the structure
09:30 - 19:00 | from Monday to Sunday
Online ticket office contacts
filangierimuseo@okticket.it
Structure contacts
+39 081 203175, +39 3715217747 (number dedicate for yoga event)