16 December 2023
hours 11:00 AM
Yoga Vinyasa Flow class
Lesson with Stefania Cristiano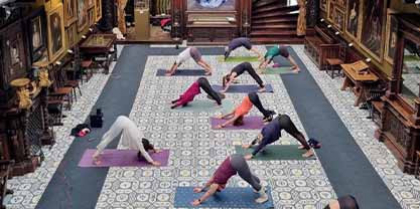 What to expect
Yoga Vinyasa Flow practice with Stefania Cristiano.
The cost of practicing VINYASA YOGA is €20. Places are limited (max 20) and tickets are non-refundable.
For the practice it is necessary to wear comfortable clothing, bring a mat and blanket.

YOGA VINYASA FLOW
Vinyasa yoga is a practice in which you can rediscover spaces and openings, letting yourself be guided by the breath that will become your rhythm. In fact, every breath marks a movement: by following this flow, one re-learns to inhale and exhale, but not only.
You will realize that everything is connected, everything communicates, that the body never lies.
There is a world to discover and it is within you, it is unique: the magic of yoga activates the spell of your revealing yourself.

STEFANIA CHRISTIAN
Graduated in Linguistic and Cultural Mediation and in Motor and Sports Activity Sciences, she trained between the United States and India, combining the principles of yogic philosophy with the constant updating of her disciplines.
She obtained the titles of RYT (Registered Yoga Teacher) 200US, 500 and Yoga in pregnancy 250 PLS, as well as Aerial Yoga and Ashtanga Yoga, becoming to all intents and purposes an E(expertice) yogateacher.
In addition to teaching in numerous and authoritative Italian and European realities, she is a trainer for aspiring yoga teachers.
Stefania likes to point out that "the inner search for transformation and self-knowledge is a journey that never ends: the more you teach, the more you understand that you never stop learning... luckily!".
Features
Duration: 1 ora
Tickets available for purchase: from 1 to 30 (based on availability)
We suggest: Wear comfortable clothes and bring a mat, a plaid, a sweatshirt and a pair of socks
To info: +39 3715217747, line dedicated to the event
In case of defection: Is possible to make up for the next lesson
This ticket is not refundable
You better book on-line!
you always have these benefits included
Instant ticket

Relax

Skip the line

The environment thanks you

Easy and stress free

Secure Payments

Personal area and help desk
How to reach the property
Museo Civico Gaetano Filangieri
Via Duomo, 288 - 80138 Napoli
Central Station
Walk 1.2 km, 16 minutes
A piedi 1,1 km, 14 minuti
Walk 1.1 km, 14 minutes
Metro Line 2 - Piazza Cavour stop
Walk 800 meters, 10 minutes
The opening hours of the structure
09:30 - 19:00 | from Monday to Sunday
Online ticket office contacts
filangierimuseo@okticket.it
Structure contacts
+39 081 203175, +39 3715217747 (number dedicate for yoga event)